Aliza Forman Rabinovici – Politics, Law & Society
Aliza's dissertation research focuses on comparative politics, gender and public policy.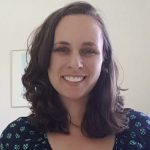 Research Focus: Aliza Forman Rabinovici's current research project focuses on the efficacy and outcomes of electoral gender quotas. She uses comparative methods to explore how electoral gender quotas interact with women's substantive and symbolic representation, and how electoral gender quotas interact with and influence civil society and market behavior. Her past research projects have explored the relationship between religion and women's welfare policy, and determinants of state abortion policy. Here's a clip about the forthcoming piece in Public Administration
Bio: Aliza is a PhD candidate in the Tel Aviv University School of Political Science, Government and International Relations. Aliza's work has been accepted for publication at Public Administration. She presented her work at international conferences including the 2017 International Studies Association Annual Convention (Baltimore). Aliza has been the recipient of research grants and scholarships including the Richard and Rhoda Goldman Fellowship Fund Junior Fellow program, Tali Gordon Prize for Academic Excellence, Mirella Haggiag Research Grant and the Heseg Foundation scholarship. Aliza is a graduate of the Tel Aviv University, where she double majored in Political Science and Communications (Summa Cum Laude). She is a graduate of the Israeli Defense Force Officers School (outstanding cadet award), and a former officer in the IDF Ordinance Corps.